Rainforest Home Appeal: Everything you need to know
The Leuser forest on the Indonesian island of Sumatra is home to many amazing and iconic species, including critically endangered Sumatran orangutans, tigers, elephants and rhinos. But Leuser is under siege, its forests being relentlessly destroyed for quick profit. One of our key strategies therefore is to create a robust buffer zone around the forest area to prevent further encroachment from road builders, industrial agriculture and poachers.

What does SOS want to do?
A highly strategic plot of land on the edge of the Leuser forest is available for purchase. Currently managed as an oil palm plantation, the land lies within the home range of several of Leuser's most iconic species, including elephants, tigers and orangutans.
Once lush biodiverse rainforest, the land is now an oil palm plantation, and a wildlife conflict hotspot. A herd of elephants regularly travels through the plantation, causing damage to crops and property; in October 2017 an elephant calf was killed in retaliation. A stranded orangutan has been evacuated from the plantation and returned to safe forests, and a plantation security guard has been arrested and jailed for poaching, having admitted to killing two tigers.
If we can purchase and restore this land, the extensive border between the plantation and the intact forests of the Leuser ecosystem would allow us to create a buffer zone. This would protect the forest from incursions and protects the wildlife from conflict with people and from poachers. SOS will raise funds to buy the land, and our Indonesian partner NGO, Yayasan Orangutan Sumatera Lestari (YOSL), will own and manage the land.
Why this piece of land?
The land proposed for purchase is currently a 'weak spot' on the eastern border of the park in terms of access for illegal activity – securing and reforesting it would enable the land to be actively managed as a buffer zone to protect this stretch of the Leuser border from incursion. The site is a human-wildlife conflict and poaching hotspot, and strategic for the prevention of elephants entering community lands and plantations.
How much will it cost?
The overall total cost of buying the 360 hectare / 890 acre plot of land is £870,000 (US$1.1 million). We need to pay this in three instalments, which are due in September 2018, November 2018 and March 2019.
What will happen if you don't raise the full amount?
We will purchase a proportion of the land according to the amount of funds raised.
Why buy land? Isn't that an incredibly expensive way to conserve a very small patch of forest?
The purchase and management of this strategic plot of land as a buffer zone for Leuser would mean a whole tranche of pristine rainforest could be properly protected forever by our partners in the field – making this excellent value for money. If this land is not secured for conservation, it will continue to be a wildlife conflict and forest encroachment hotspot.
What are the opinions of local communities about the land being reclaimed and restored? What are their future livelihood options?
No matter how many trees we plant, the most essential element of our rainforest restoration programme is involving the communities who live in and around the Leuser forest in becoming protectors of the forest, and defending its borders from future threats. SOS and YOSL's model of establishing local community groups to manage tree nurseries and restore degraded forest areas encourages the community to become guardians of the protected area, whilst gaining significantly themselves from a return of vital ecosystem services and an increase in income. Local communities are vital stakeholders in the protection, restoration and safeguarding of critical orangutan habitat, and this holistic approach is crucial if conservation efforts are to be successful in the long term.
The majority of people living adjacent to the land are currently employees of the oil palm plantation. Following a tried and tested model, they will be offered employment on the restoration project, including the establishment of community-managed organic tree nurseries. Fifty hectares of the site will be developed as a permaculture demonstration site and social enterprise, offering further employment and training opportunities. Community needs assessments will be conducted to support tailored sustainable livelihood development.
In addition, through training in agroforestry, permaculture and organic farming techniques, farmers can increase crop yields and improve their profit, reducing their need to expand farmlands into the forest.
Who will own and manage the land? How long will they own it for?
YOSL will own and manage the land at Cinta Raja. We are supporting them to purchase the land, as we are a UK registered charity and foreign entities are not permitted to buy land in Indonesia. They will own it forever.
Who are SOS and YOSL and why are you the right people to take this on?
Established in 2001, SOS has an excellent track record of working with partners in Sumatra to achieve lasting change in the protection of orangutans and their habitat. Our sister organisation, YOSL, is a well-respected Indonesian NGO with substantial expertise and an excellent track record in reclaiming and restoring oil palm plantations.
Together, SOS and YOSL have been managing successful community-led reforestation projects in Sumatra since 2004. Over 1.6 million trees have been planted to date, and over 2,000 hectares of degraded land restored. With the permission of the Indonesian government, 13 illegal oil palm plantations have been removed from inside the Leuser forest and indigenous rainforest trees planted in their place. Wildlife is starting to return to these areas, including orangutans, elephants and sun bears.
As well as restoring lost habitat and reinforcing national park boundaries, these projects engage local people in grassroots conservation action. Strong roots in the community are absolutely essential for this work to succeed, and the villages they work with have become the guardians of the forests, protecting the ecosystem from future threats.
What are the guarantees that it won't be turned back into an oil palm plantation/other non-forest use?
YOSL's core mission is to conserve habitat and protect orangutans in Sumatra. They would therefore never consent to the land being used for economic gain which harmed the forest and the habitat of orangutans.
YOSL will maintain an active presence on the land and manage it as both a restoration site and social enterprise through the permaculture element. They also manage law enforcement projects, including patrols, and these will be expanded in this region.
How can we be confident that the poaching and conflict issues won't simply be relocated a few miles further along the border?
The field programmes supported by SOS and managed by YOSL are conducted through strong working partnerships and official agreements with various stakeholders including the Gunung Leuser National Park (GLNP) authority (which lies adjacent to the western border of the plantation), and the Indonesian government's Nature Resource Conservation Agency (BKSDA). Due to this strong collaboration, the government has become far more active in their law enforcement efforts, seeking to prosecute companies and individuals involved in illegal deforestation, poaching and the trade of protected species.
Other land bordering the eastern side of the national park already acts as buffer zones, so this plantation is currently a weak spot. Securing and restoring this land will strengthen the overall protection of the park and forest from incursions.
How long will it take for the forest to regrow and for wildlife to return?
Forest in this part of the world grows incredibly quickly. Once the palm oil trees have been chopped down, the restoration team will prepare the soil, build sleeping cabins for the workers, build tree nurseries and begin planting. It will take around two years to replant the entire plot, and during Year 2 following planting, we would expect birds to return to the area, assisting with natural regeneration processes. By Year 4, larger mammals, including orangutans, will start to return.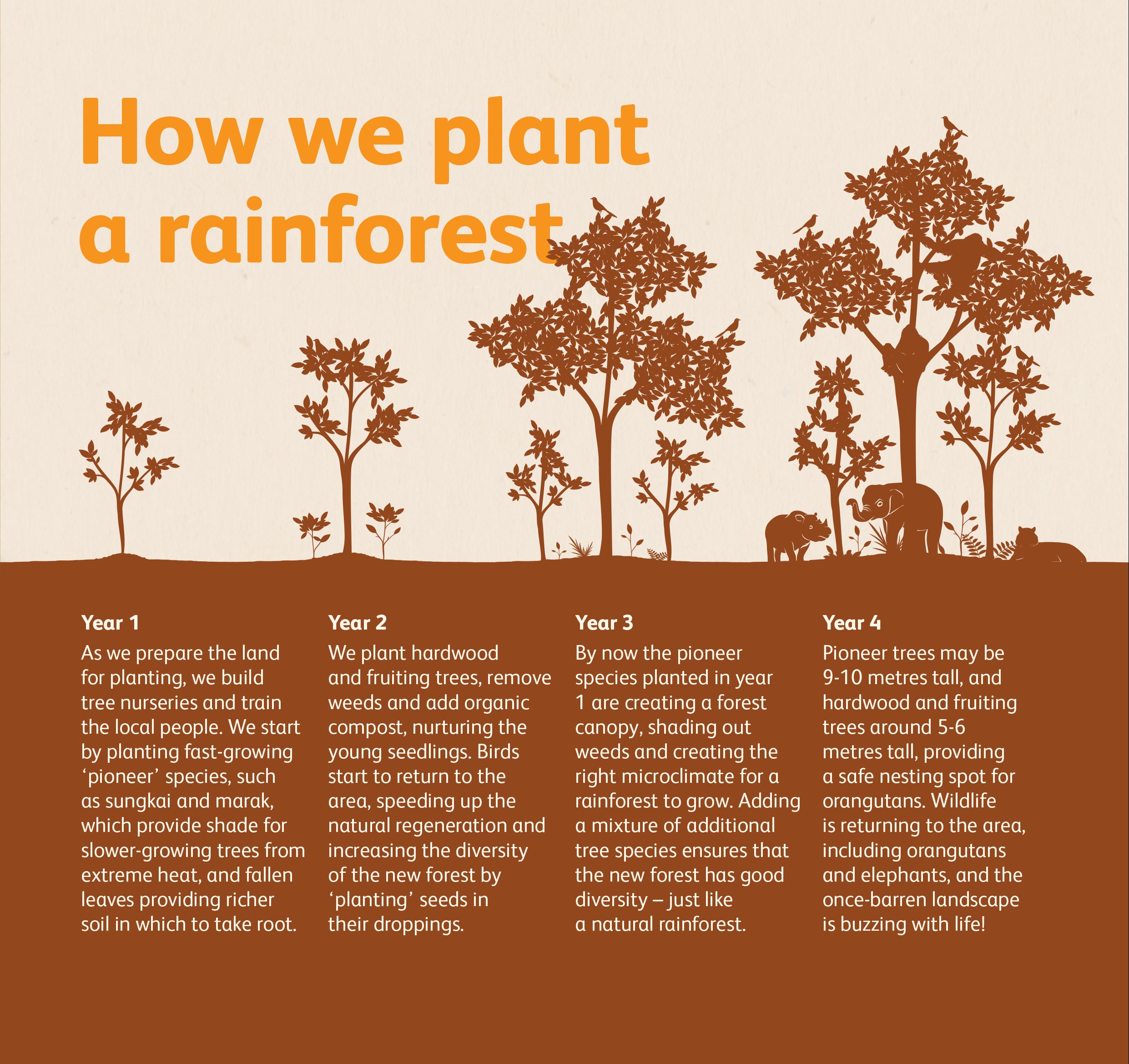 Donate now to help buy the plantation and create a secure future for orangutans!