There's no doubt that the palm oil industry has had an extremely negative impact on wildlife and ecosystems worldwide. Especially on orangutans and their rainforest home in Sumatra.

Given the recent re-igniting of the conversation about palm oil, triggered by the controversial Iceland advert being banned in the UK, we wanted to lay out our position and what constructive action concerned individuals and businesses can take.
What's the problem with palm oil?
Sumatra's forests have been falling relentlessly for decades, pushing orangutans and many other species to the edge of extinction. One of the leading drivers of this destruction has been the palm oil industry. Indonesia has the fastest deforestation rate in the world. In Sumatra, there is four times more palmoil plantation then Sumatran orangutan habitat.
As demand for palm oil continues to rise, vibrant, biodiverse rainforest is being removed to make way for oil palm plantations, and wildlife is being displaced or killed. Many of the plantations are established completely legally (note – legal doesn't equate to sustainable!), but illegal plantations are also encroaching into protected forests and national parks.
Orangutans frequently get trapped in pockets of farmland as the forest falls around them. They sometimes resort to raiding crops, and ultimately they may starve, be shot, or captured for the illegal pet trade.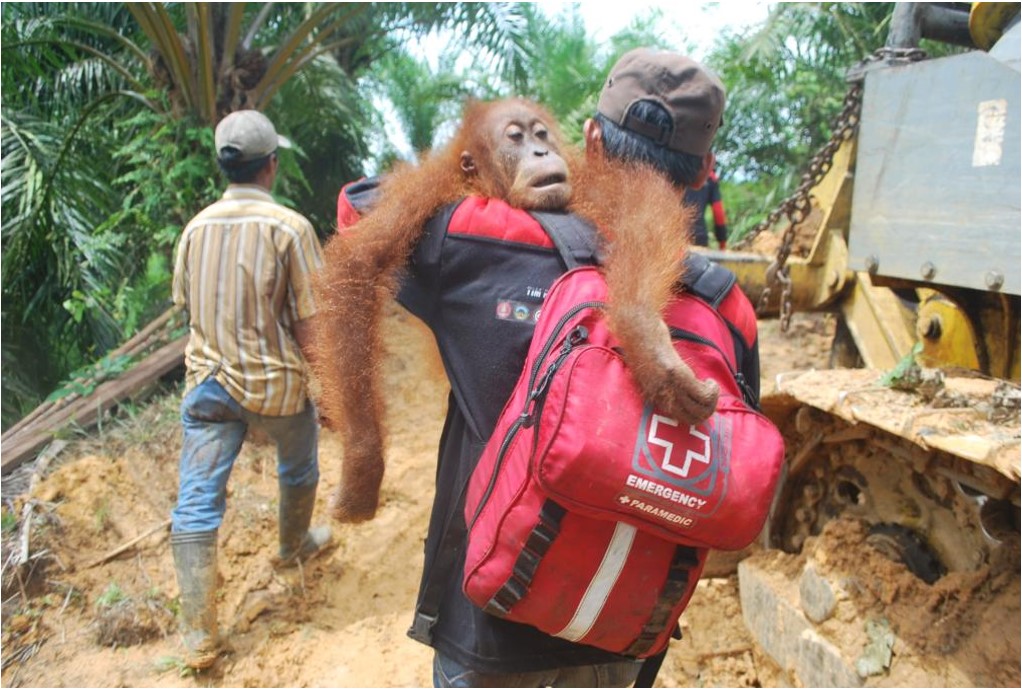 Should we boycott palm oil?
This is a question that each individual consumer, and each company with palm oil in their supply chains, must answer for themselves. A business might eliminate palm oil from their products until they feel confident that their supply chain is deforestation-free.  A shopper browsing the supermarket aisles might wish to send a message that they are aware of, and outraged by, the negative impacts of the palm oil industry by choosing palm-oil-free options. The question we encourage individuals and companies to consider is:
Will this action help orangutans, forests, and communities?
The answer is an unequivocal no. Unintended consequences could include:
If the international market for palm oil disappears, corporations and smallholder farmers alike could switch to producing an alternative crop. Oil palms are the most productive oil crop in the world, which means that a switch to another type of edible vegetable oil (such as soybean oil) would require up to ten times as much land to produce the same yield. This would lead to more deforestation, not less.
Boycotting palm oil could also drive the price of the oil down, making it more attractive for biofuels and livestock feed. This could increase demand, especially in countries such as China and India, which import the largest amounts of palm oil.
All agriculture has an impact, and with over 4.5 million people in Indonesia alone relying on the palm oil industry as their primary source of income, palm oil is here to stay. What we need to do is ensure that it is cultivated in the least damaging way possible. Palm oil trees do not need to be grown at the expense of forests. Instead, we need to demand an end to deforestation to ensure safe habitat for orangutans and all the other species that also rely on the rainforest.
Where can we go from here?
As the debate about whether 'sustainable' palm oil is an oxymoron continues to rage, forests continue to fall. The situation in Sumatra is desperate, but it is not without hope. As well as reclaiming and restoring forests, we are working hard, alongside our NGO and private sector colleagues, to break the link between development and deforestation, thereby ensuring that forests are kept safe from the bulldozers and chainsaws. This means finding ways for the locals to improve their income without chopping down rainforest trees.
Who are the RSPO and can they be trusted?
SOS is an active member of the Roundtable on Sustainable Palm Oil (RSPO), an organisation which brings together companies that produce, trade, use or invest in palm oil, alongside conservation and social NGOs. We have been working for many years, alongside partners, to strengthen the RSPO standard, and just this week (November 2018) the RSPO has launched a new, improved version of this standard, which will deliver deforestation-free palm oil.
Until companies' palm oil production is certified according to the new standard, we advocate the production and use of responsible palm oil produced according to the Palm Oil Innovation Group (POIG) Charter. POIG is a collection of NGOs and progressive palm oil producers that have established a detailed set of values that build on the RSPO standard and stipulate that palm oil operations must be free from deforestation, destruction of peatlands, and human rights abuses.
It is crucial that companies who commit to clean up their supply chain turn this aspiration into action. Deforestation-free palm oil needs to be a reality for all.
We need palm oil producers to stop converting forests and peatlands to palm oil plantations. Instead, they could use degraded land or increase yields on existing plantations. They also need to be transparent about their production methods and avoid labour, land and human rights violations.
Companies selling products made with palm oil and its derivatives need to source responsibly-produced palm oil, ensuring their supply chain is traceable, and communicating honestly with their customers about their progress on the journey to using solely responsible palm oil.
As a consumer, you can research which retailers and manufacturers are committed to removing deforestation from their products (check out a fantastic bar-code scanning app called Giki!), join social media campaigns to drive the industry in the right direction, and support conservation organisations who are working to break the link between palm oil and deforestation.
Become an Orangutan Guardian
We are grateful for every single donation that is made to support our projects and campaigns. A regular donation is one of the best ways to help us in our mission to protect orangutans, their forests and their future. This enables us to plan and expand our work, as well as respond swiftly to any urgent situations on the ground.
£5 a month could help us set up new organic tree nurseries where seedlings are nurtured before planting.
£10 a month could support our longer-term goals of training local people to become guardians of the forest
£20 a month could support the orangutan rescue team with veterinary supplies to enable them to safely remove orangutans from dangerous situations
Would you like to become an Orangutan Guardian?  It takes just moments to set up a monthly donation via the form below, and your committed support would mean so much to the charity, as we work towards a brighter future for Sumatran orangutans.
With you standing alongside us, SOS will continue protecting Sumatra's orangutans and forests for as long as we are needed.
To find out more about some of the other factors driving deforestation, click here