Pre-order your 2024 SOS calendar
Fill 2024 with orangutan joy!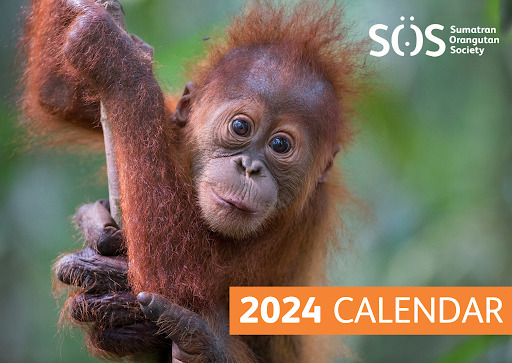 For the first time ever, we are launching our very own 2024 calendar. It's more than just a collection of dates and days – it's a testament to the beauty of wild orangutans and our commitment to their protection.
SOS has been at the forefront of orangutan conservation in Sumatra for years. Our mission is to protect wild orangutans and their rainforest habitat. The journey has been challenging, but it's also been filled with moments of breathtaking beauty, thanks to the incredible wildlife that calls Sumatra home.
Now, we're excited to share that our 2024 calendar will feature stunning photographs taken by none other than the renowned wildlife photographer, Zac Mills. With his lens, Zac has captured the soul of Sumatra's orangutans.

Zac is no stranger to Sumatra's wildlife. His dedication to conservation aligns seamlessly with our own mission, and his work speaks volumes about the need to protect this unique corner of the world. Every image in this calendar is a story in itself, showcasing orangutans in their natural habitat.
What makes this calendar even more special is that 100% of the profits will go directly to SOS. Your support will be channeled into vital conservation efforts, including forest preservation, community education, and more. Together, we can ensure that the orangutans of Sumatra can have a thriving future.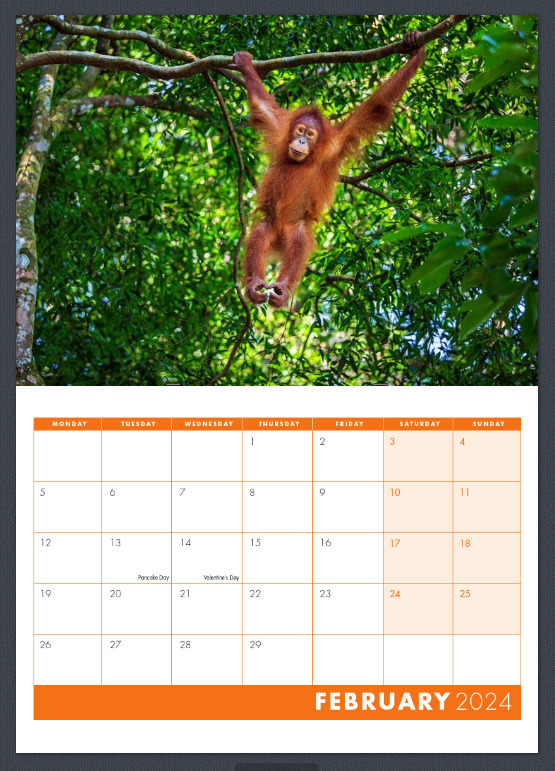 The calendar is available for pre-order now until 23rd November. While we will order a limited number of extras, the only the way to guarantee your calendar is to pre-order. Pre-ordered calendars are guaranteed to arrive in time for Christmas (UK only).
When you buy this calendar, you're not just getting a beautiful addition to your wall – you're becoming a part of the SOS mission, contributing directly to the preservation of Sumatra's precious rainforests and its incredible inhabitants.
We can't wait to share this remarkable calendar with you. Together, we can make 2024 a year that truly makes a difference for Sumatran orangutans and their rainforest homes.