SOS volunteer Alison Bristo once again travelled to Sumatra this August. Here are her thoughts on what she experienced while spending time with the teams at OIC and Nature for Change.
In August this year I was lucky enough to be able to return to Sumatra to see what SOS have managed to support since my visit in 2018.
I began my adventure in Bukit Lawang with a project SOS recently started supporting, Nature for Change. Darma, the co-founder of Nature for Change, was the perfect host and guide. He knows the forest well and has a huge respect for orangutans and the forest. I learnt a lot about wild and semi-wild orangutans, human and orangutan conflicts and what his charity is doing to help. I stayed at Darma's homestay lodge, which was a delight. Not only was the accommodation top class, the position was ideal.  Just outside the busy town in a small community, I was in the midst of rice fields with the forest in view.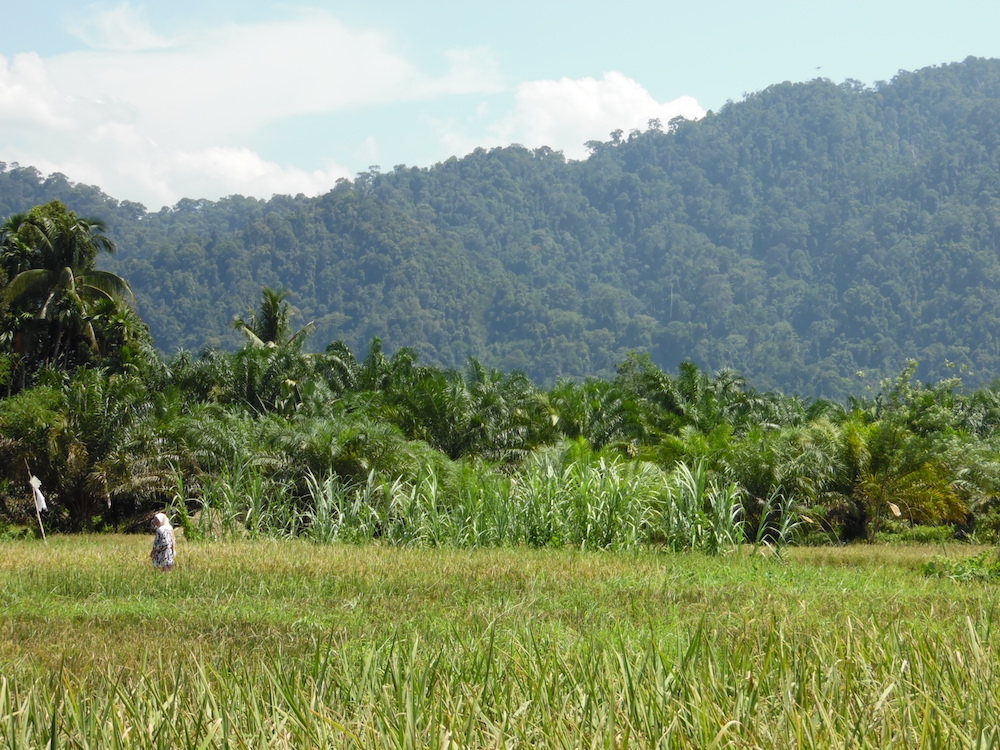 It was harvest time. From early morning until noon, throughout the scorching hot sun, the community work together quickly and happily to harvest the rice. I was invited to help, which was great fun and very rewarding. The rice grass is hand cut, collected and fed into a machine, where the rice separates. It is then dried in the sun, bagged and sent off to be sold locally.
I also visited two schools near where Darma lives. The first was a local primary and the second, a group of children that meet in the late afternoons for extra-curricular classes.  In each one, I gave a fun lesson on basic English. The children were all welcoming and eager to learn.
On three separate days, Darma guided me through the dense Gunung Leuser National Park, where many tourists come to see semi-wild orangutans. There are often many tourists in the park and I felt extremely privileged to have Darma as my guide as he fully understands the need for people to follow the rules of the park. Orangutans are at risk of catching life threatening diseases from human contact and food that may be left behind from our snacks or picnics.  Understanding this, we ensured we did not encourage any orangutans to come down from trees and made sure we took all our waste food from a tasty lunch home with us.
It was the first time I had seen a Sumatran orangutan and I was in awe of their outstanding beauty. Watching a mother with her baby was beautiful.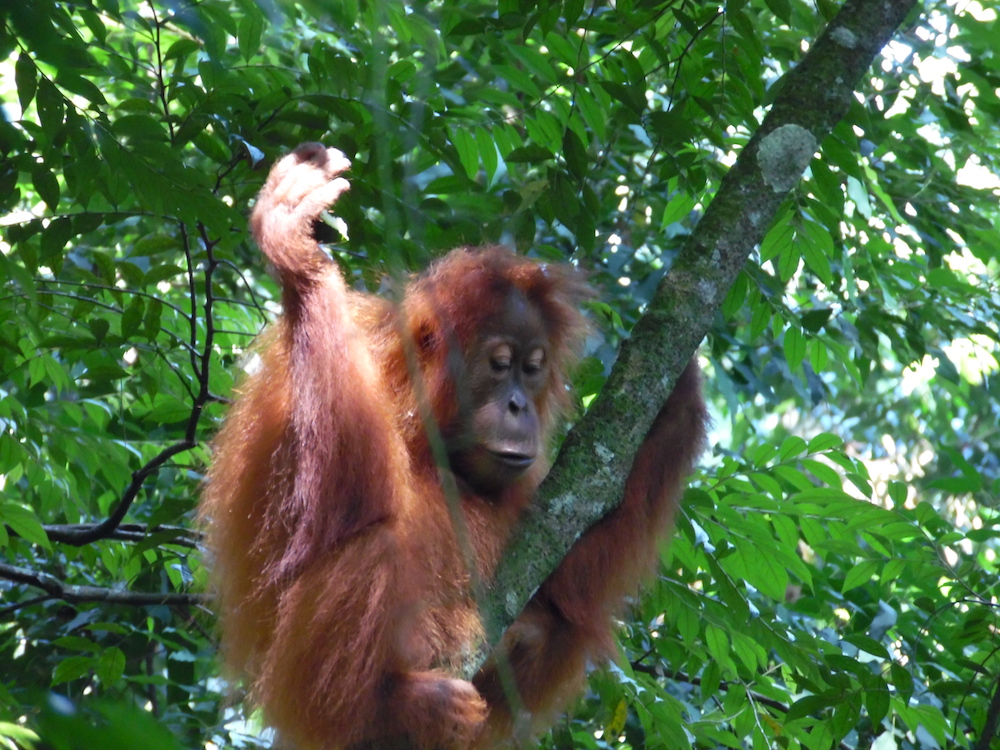 Nature for Change plant trees along the buffer zone, alongside the river, helping to create a safer place for animals that may wander out of the National Park looking for food.  This initiative helps local farmers to feel less threatened by the animals stealing their valuable crops. I trailed through the river with Darma, holding small trees to plant.  It always feels so rewarding and exciting to plant trees and these will be valuable in protecting orangutans and other animals.
Returning to Bukit Mas                                                  
My next stop was Bukit Mas. I was excited to see people I had met last year and excited to see any changes that had taken place.  I was not disappointed!  It was wonderful to see people I had made friends with last year and I was amazed at how much the land had developed.  Some parts were unrecognisable.  Everywhere I looked something was growing. New structures had been built and the school had a new group of students to join those that started last year.
An impressive sturdy structure made from local bamboo, designed by Sabar, now sits at the top of a hill.   The breeze is very welcome and the views are awesome – an ideal place to learn!  Students come to the school from neighbouring villages. Some travel by motorcycle, but others walk, meaning they have to cross a river.  A boat has recently been built to enable them to cross the river safely to get to school.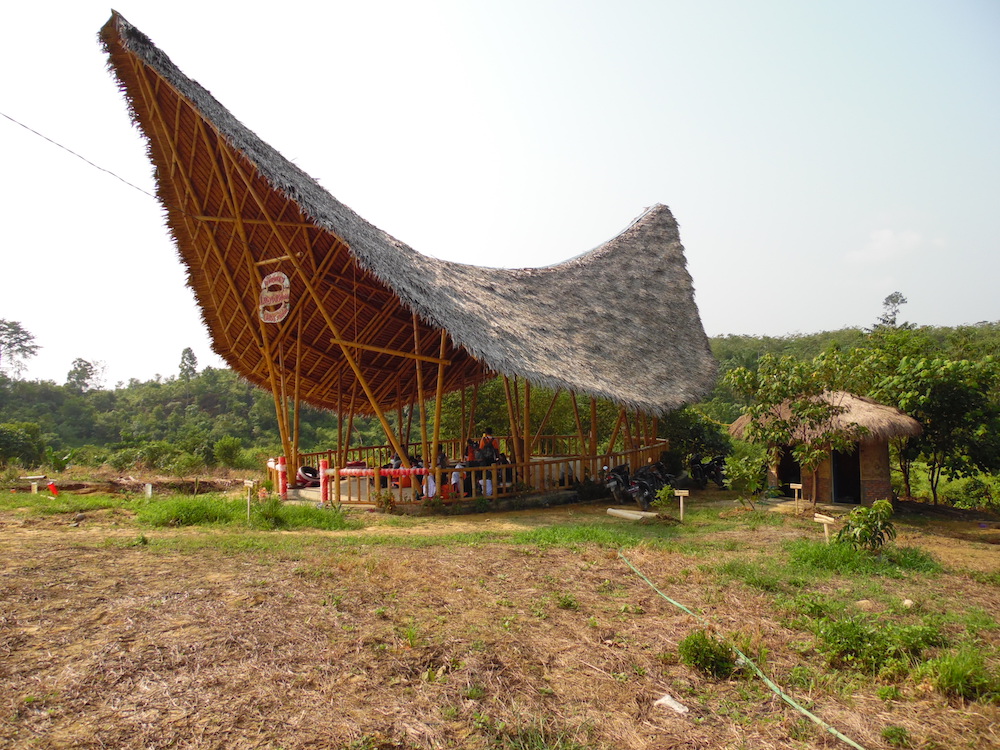 The students have regular English lessons and I was impressed with their abilities.  They are keen to learn more English and I was able to help them with fun activities and lessons.
All students help with maintaining and developing the land. They learn valuable skills which include understanding the need to take responsibility for rebuilding and taking care of the forest.  They grow food and flowers as well as plants, herbs and trees.
Sabar, OIC's permaculture manager, now lives with his young family at Bukit Mas.  He takes his work seriously and is very dedicated.  His wealth of knowledge is shared with visitors and the local community, encouraging them and providing help and knowledge to grow their own food and take care of the land they rely on.  This is essential in maintaining good relationships with the local community and land owners, enabling them to be self sufficient rather than selling their land for palm oil.
There are lots of local workers employed at Bukit Mas to restore the land and continuously maintain the newly-planted trees.  The transformation of this land is due to hard work, knowledge and dedication.  It was a privilege to be a part of the developments by helping to plant more trees.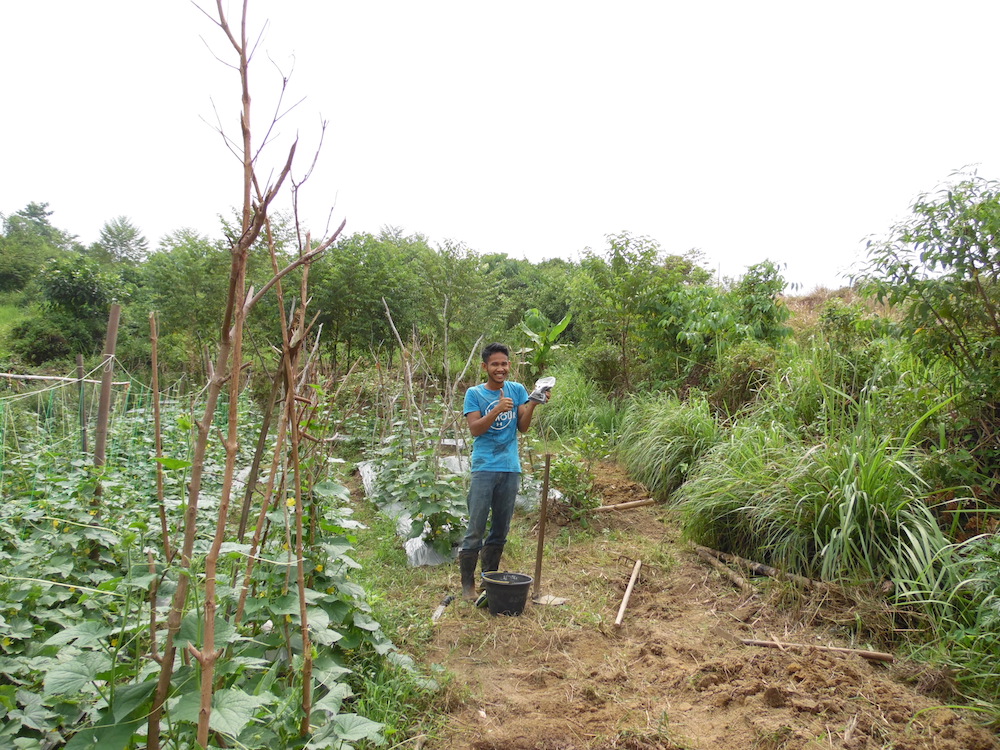 Fruits and vegetables are now thriving in soil that last year was dry and undernourished.  Collecting cucumbers was a daily joy and they tasted delicious. To ensure there is plenty of fertiliser for all the crops, there is now a small group of cows at Bukit Mas.
As an expert on permaculture, Sabar has been successful in growing many plants and herbs that can be used for medicinal purposes. It was amazing to learn so much about the healing properties of each plant, some of which included; Brotowali (good for malaria), Keji Beling (kidney stones),  Kencur (Stomach problems), ginger, turmeric and jarag. Last year I helped plant lemongrass on land that was dry and barren, and now the lemongrass is thriving there. It is in demand and I was lucky enough to witness a distillation machine being installed.  This will mean that lemongrass oil can be produced without having to burn wood to create enough steam to distill the oil from the leaves.  The pure lemongrass oil will be sold to bring much-needed funds back into the project.
I had an amazing time in Sumatra again. It was wonderful to see how much SOS have helped to achieve.
Bye bye Sumatra, and thank you. I will be back!