We're going to be on the radio!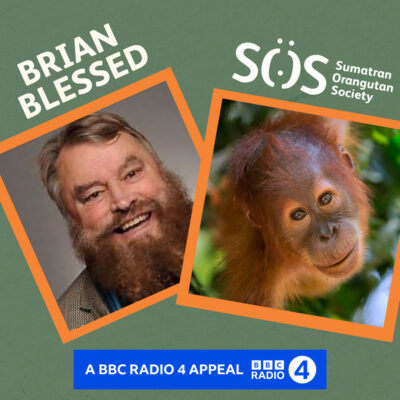 We're delighted to share the news that we have been selected to take part in the BBC Radio 4 Appeal Broadcast in July.
Our appeal will first broadcast on Sunday 16th July and available to listen to worldwide.
The appeal will air at the following times:
Sunday 16th July 7:54am
Sunday 16th July 9:25pm
Thursday 20th July 3:27pm
It will also be available to listen to all week online via the BBC website and the BBC Sounds app.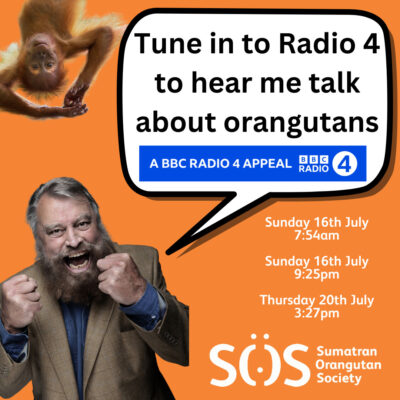 We are also excited to announce that the appeal will be presented by legendary actor and UK national treasure Brian Blessed! Brian has been a patron of SOS for many years after seeing orangutans in the wild and developing a real passion for protecting them and their future.
"We are guardians of this planet. Having had the privilege of seeing wild orangutans, I am steadfast in my belief that we must do all that we can to protect these magnificent creatures." – SOS patron, actor Brian Blessed OBE.
Tune in to hear Brian Blessed share his experience with orangutans and explain why it is so important to protect them and their forest home in Sumatra.
Additionally, a foundation which is a long-term supporter of SOS has agreed to match donations up to £8,000. This means that over the week of the appeal, your donation can be doubled at no extra cost to you. Twice the donation, twice the impact!
To support the Appeal you can donate here during the week of the Appeal.  Please note donations made outside 16th-21st July will not support SOS.

Funds raised through the Radio 4 Appeal will help to support the goals of our Conservation Greenprint – our strategy to 2030. It is a groundbreaking roadmap for orangutan conservation with communities, partnerships and science at its core.
To move towards a thriving future for Sumatra's orangutans, communities and their forests, we must focus on three goals: Protect, Connect and Rewild orangutan landscapes.
Working alongside our frontline partners, local authorities and forest-edge communities, by 2030 we aim to:
Contribute to the protection of 1.8 million hectares of orangutan habitat
Prioritise the long-term connection of vital orangutan landscapes
Enable the rewilding of 10,000 hectares of critical land so orangutans, and so many other species, have space to flourish.
These goals are bold and ambitious. We are confident that our ways of working also make them achievable. We hope that you will join us on this journey. Please dive into our Conservation Greenprint here.