On 23rd April 2023, six supporters took on the London Marathon raising over £9.000 to protect orangutans
On 23rd April 2023, six amazing supporters took on the London Marathon to raise awareness and funds to support orangutans. Collectively, they raised an amazing £9,421 – that's enough funds to plant 8 football pitches worth of trees in the Sumatran rainforest! 
More than 48,000 runners took on the race from Greenwich to The Mall with organisers confirming that this year's race was the biggest ever. The runners were cheered on by thousands of people who lined the streets even when it rained to offer water, food and encouragement the full length of the route.
Runners began the route from Greenwich Park, before looping past London landmarks including Tower Bridge and Trafalgar Square. They crossed the finish line in front of Buckingham Palace on The Mall.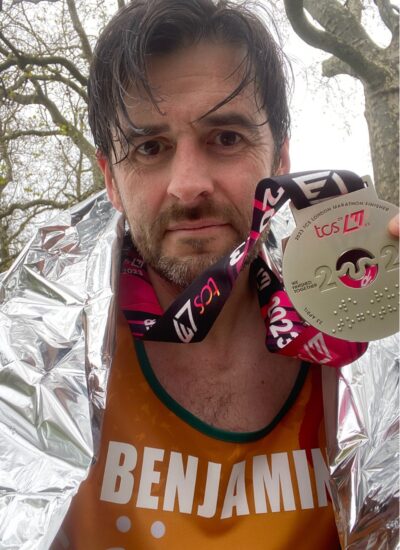 We caught up with one of our runners, Ben, about how he found the experience and why he chose to support us.
Q:Why did you choose to support SOS?
A: In a cost of living crisis, people can forget about the animals with whom we share the planet. Orangutans are some of the gentlest, most intelligent, creatures on earth, and I felt proud to be involved with protecting them and their habitat.
Q:What was the experience like on the day?
A: Incredible. The crowd were fantastic, and the support was essential in getting round. Having your name on one's running top is a good idea and people seemed a big fan of the orangutans on the top!
Q: What do you wish you knew before you started?
A: How much fun it was going to be. Marathon running is always hard work, but there is so much joy and emotion that it makes the London experience so much easier than others.
Q: What would you say to someone who is considering taking on the London Marathon for SOS?
A: Do it! A unique marathon experience and the chance to be part of something that transcends the very nature of the sport.
If you would like to join Team SOS for the 2024 London Marathon, you can click here to apply now.