Splash & Burn: Art activism campaign highlights forest destruction in Sumatra
What happens when artists and conservationists collaborate? Raising awareness about environmental issues, biodiversity protection and human wellbeing takes an unprecedented turn!

by Fabien Garnier, SOS Conservation Programme Manager
Very often, the media provides a steady stream of negative news about deforestation, biodiversity loss, ecosystems vanishing and local communities suffering. It is hard to spot a positive message amongst the number of hectares of rainforest lost every day, or the plummeting populations of rhinos, elephants, tigers and orangutans.
In order to inspire and empower citizens around the world to take action, and reach new audiences rather than causing people to turn away at the enormity of the challenges we face, conservationists need to get creative in the way that they communicate about the threats facing the natural world, and the strategies which are having a positive impact on the fate of forests and wildlife.
That's how the Splash and Burn project was born, fruit of the collaboration between the internationally renowned street artist Ernest Zacharevic, the Sumatran Orangutan Society and a group of NGOs working in Sumatra. The idea germinated in Ernest's mind after the catastrophic fires that ravage peatlands and rainforest on Sumatra and Borneo islands annually, destroying more than 1 million hectares of biodiversity habitat, emitting 1.6 billion tons of greenhouse gases and endangering directly the life of 500,000 people in 2015.
The images of forest burning to ashes went viral on social media for months but Ernest wanted to talk about it differently: by bringing a dozen street artists from all over the world, including Indonesia, talking with conservationists and visiting conservation project sites, and by involving local actors at every stage of the Splash and Burn project. And most importantly, conveying a strong message in different original ways (paintings, murals, sculptures, videos): that nature is wonderful, human beings are dependant on it and that destruction must stop before it is too late.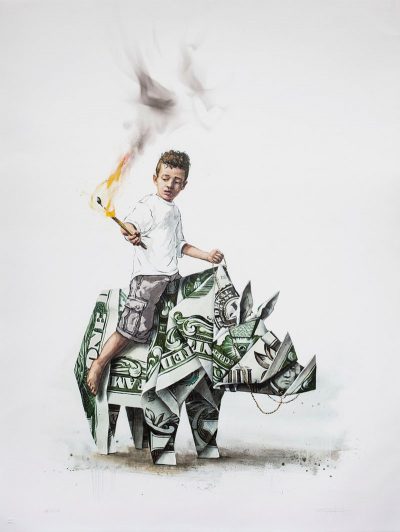 This approach immediately appealed to us at SOS, due to the potential to significantly raise the profile of the Leuser Ecosystem, both at local and international levels, the last place on Earth where orangutans, tigers, elephants and rhinos  roam together. Art is a powerful tool to make people think differently about the environment and the way we behave towards it. Last but not least, street art is becoming very popular in Indonesia and this project, even though clearly targeting to gain attention worldwide, is also dedicated to the Indonesian audience, creating a new bridge between the locals and their environment. After all, the first beneficiaries and stewards of the rainforests are the people living next to it.
The Sumatran Orangutan Society would like to thank Ernest Zacharevic and Charlotte Pyatt, and hopes all our supporters will enjoy and share widely the stories of the Splash and Burn project!
This article in The Guardian features some of the incredible artworks created for the Splash & Burn campaign: Where there's a wall, there's a way: Artists take aim at Sumatra's palm oil industry
Please stay tuned and follow the hashtag #splashandburn to know more and help us save Sumatran orangutans and their habitat.