Since late 2020, we have been proud to collaborate with Whole Earth as they help us and our partners to rewild the Forever Forest site in North Sumatra. Whole Earth helped us to plant 20,000 trees there in 2021, and are now aiming to plant a further 50,000 in 2022 with the profits from its new Golden Rainforest Edition peanut butter.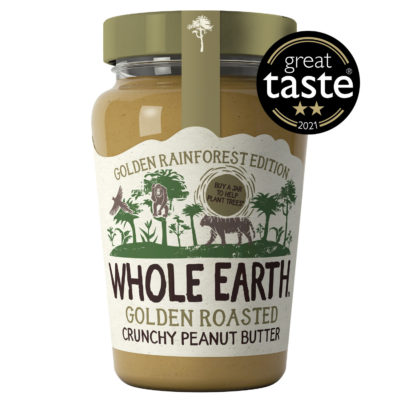 Orangutans spend almost all of their lives living up in the tree canopy. But over the past twenty years, the rainforest in Sumatra has been shrinking, cut down for logging and farmlands and to make way for roads.
Without safe forests, there is no future for orangutans in Sumatra – one of only two places on the planet where these magnificent creatures live in the wild.
Since 2001 SOS has been working to secure the future for orangutans. We have supported our grassroots NGO partners and forest-edge communities to plant more than 2 million trees and to rescue and relocate 200 orangutans who were stranded and in danger.
We are making progress, but there is still so much to do. And at SOS we have really big plans over the next ten years. We are conservation optimists, convinced we have all the right tools and expertise to ensure that wild orangutans can look forward to a future where they can thrive in safe and healthy forests.
Every jar of Golden Rainforest Peanut Butter sold in 2022 will help to plant 50,000 trees in the Sumatran rainforest so orangutans can thrive into the future – please do spread the love among your family, friends and fellow peanut butter fans. Together, we can help stop the orangutans on Sumatra from becoming extinct.
Click here
to sign up for our email newsletter and be in with a chance of winning a year's supply of Golden Rainforest Edition peanut butter!